"Snow in Summer, Flowers in Fall"

Greetings, guest!
[Login]
Back up to:[
Story Launch
]
---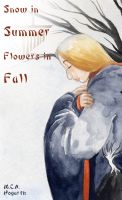 Smashwords | Amazon US | Amazon UK
What can I say about Snow in Summer, Flowers in Fall? It was a story inspired by a piece of art that spends half its time describing theater and quoting poetry; like origami, interlocked art forms leading to one another. It's science fiction set in the present day, but it's also a performance. It's about the redemption of sorrow. It's about extraterrestials with hair like golden retrievers. It has kimonos, fans and the magic that alchemizes grief into memory, and better things.
This song is a lament for the Khedariens.

As snow on a summer garden

melts among the pebbles with the morning,

so they came unexpected, like a gift,

as quickly put aside.

Elora's voice quivered on the last word of the stanza, and as the notes of the shamisen sounded Miya took her first steps along the hanamichi, the raised walk leading through the audience. She hid her eyes with her fan, but between its wooden struts she saw people's hips, crushed against one another on the benches. It was beautiful weather for outdoor theater, a warm morning.

Here is Humanity, Elora sang.

Here is the flower of Terra.

See how delicate her footsteps;

she has learned to walk softly on the earth.

Miya stepped with deliberate grace to the middle of the hanamichi, where she froze, lifting her arms with their heavy tapestried sleeves and revealing her pale and painted face. The audience gasped.

"See us," Miya said in the sing-song taught her by her father. "We come in peace."
I mentioned this story being inspired by a piece of art, which I have linked below. I had drawn a woman in a kimono and a tree with windchimes and asked me to write a story about it. What do you do, I wonder, with trees and windchimes and girls in kimono? Forth I went to find out. I did two other pieces of Miya, the main character; I've also included the cover image, unedited, which some of you watched me paint from beginning to end on my livestream (that original is for sale). Miya looks a little like a childhood friend of mine, whose parents were Japanese and British.
Funny story: the aliens in this story share something in common with the aliens in a popular novel, something I discovered when an editor told me it was too similar for his tastes. I have since read the book and found the commonality rather bemusing... but am not bothered by it. What mattered to me while writing the story is the way humans interact with art and the unknown, not the quality of the unknown.

Anyway. This is a good story, more typical of me than the dark stuff I posted last time. Read it for pleasure, for the poetry, for the ending.

You can pick up my other stories in print and in e-book form, including many free and 99-cent nibbles, at Smashwords and Amazon. And as always, if you like what you read, please drop back by and give it a few stars or a review. Your opinions help other readers make their purchasing decisions! Help an independent author out. :)
---